Publications
Serious writing doesn't have to be dry and boring! As an author, I aim to produce work that is informative and analytical but also lively, engaging, and reader-friendly. My publications are characterized by vibrant description, accessible prose, and even (when my editors permit it!) the occasional dash of humour. 
To download pdf copies of my most recent scholarly publications, please visit my profile on Academia.edu.
"'Righteousness Exalteth the Nation': Religion, Nationalism, and Thanksgiving Day in Ontario, 1859-1914," in Celebrating Canada, Volume I: Holidays, National Days, and the Crafting of Identities, Matthew Hayday and Raymond Blake, eds., (Toronto: University of Toronto Press, 2016).
"Ghosts of Cottage Country Past," Spacing Magazine, Issue 39 (Spring 2016): 54.
"A Little Place in the (Next) Country: Negotiating Nature and Nation in 1970s Ontario," Journal of Canadian Studies, Vol. 47 No. 3 (Fall 2013): 42-66.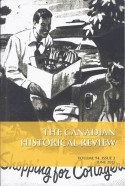 "'Roughing it in Comfort': Family Cottaging and Consumer Culture in Postwar Ontario," Canadian Historical Review, Vol. 94 No. 2 (June 2013): 234-62.
"Cars and Cottages: The Automotive Transformation of Ontario's Summer Home Tradition," Ontario History, Vol. 100 No. 1 (Spring 2008): 26-56.
"The Road to Stability: The Rise of Provincial Political Parties in British Columbia," The Seed, Vol. 1 No. 1 (Autumn 1997): 15-33.